Summary
Renewable energy facts and renewable energy growth forecasts. Government support and targets for renewables. Bloomberg's global electric vehicle sales targets.
Combining the solar and EV revolution will be a game-changing trend/disruption this decade.
Four ETFs to benefit from the renewable energy (solar & wind) and EV trend/disruption.
It is starting to look like renewable energy and electric vehicles [EVs] will be the two largest trends of the 2020's decade. Certainly in the USA, if Biden is elected, he plans for "the U.S. to be a carbon pollution-free power sector by 2035." This will have to be mostly renewable energy sources. Given that in 2019 just 17% of US electricity generation came from renewables (and only 11% of total energy consumption), to ramp up towards 100% renewables in just 15 years would lead to a massive boom in solar and wind installations. Meanwhile China and Europe continue to lead the way with solar, wind, and EV adoption.
In 2019 it was reported that:
Global supplies of renewable electricity are growing faster than expected and could expand by 50% in the next five years, powered by a resurgence in solar energy.
As solar and wind have become the cheapest forms of energy production the IEA reported that "solar, wind and hydropower projects are rolling out at their fastest rate in four years."
IEA's executive director, Fatih Birol stated:
This is a pivotal time for renewable energy……Technologies such as solar photovoltaics [PV] and wind are at the heart of transformations taking place across the global energy system. Their increasing deployment is crucial for efforts to tackle greenhouse gas emissions, reduce air pollution, and expand energy access.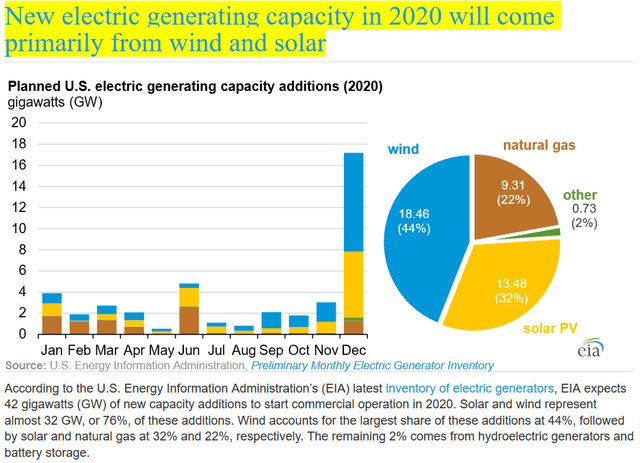 Source: EIA
Renewable energy facts
In 2018 renewable energy made up just 12.9% of global power generation.
BNEF – In 2019, the world financed $282 billion of renewable capacity, with onshore and offshore wind leading the way at $138 billion followed by solar at $131 billion.
Renewable energy growth forecasts
IEA forecasts global renewables to surge led by solar & wind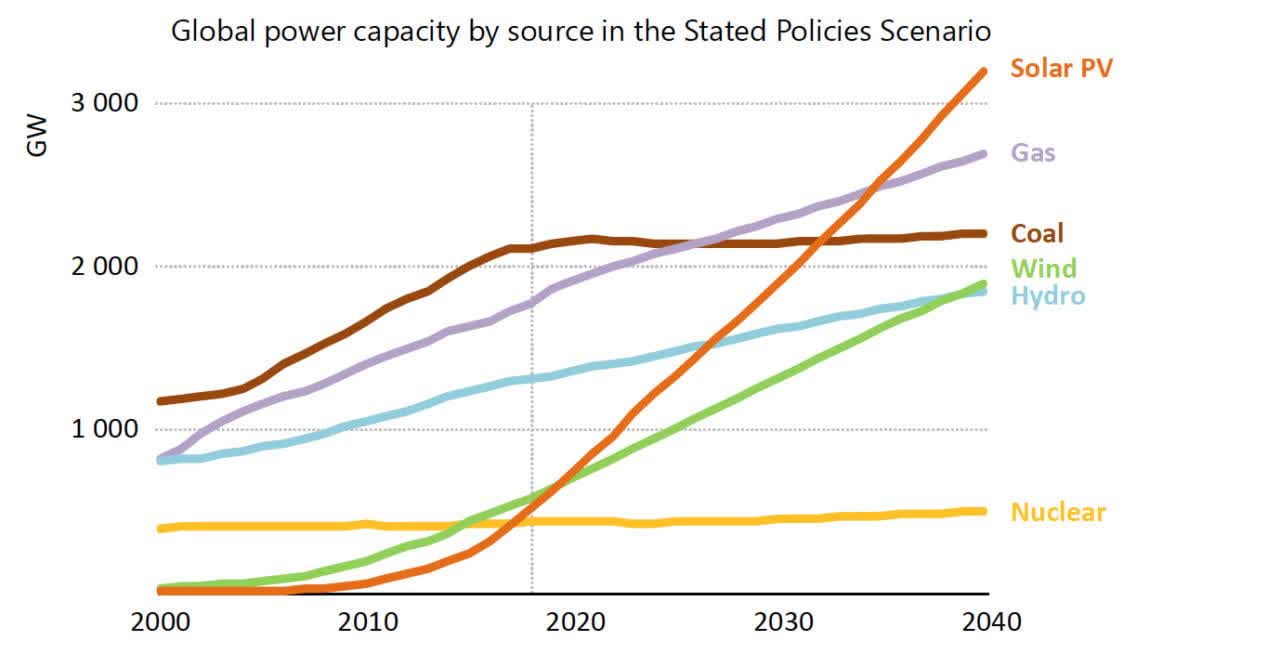 Source: PowerMag courtesy IEA
Bloomberg's forecasts – About half of all energy production form renewables by 2050 (renewables will be mostly wind & solar)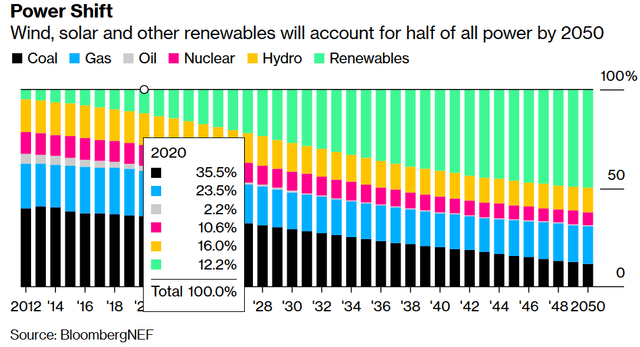 BNEF's above forecasts in table format
2020
2025
2030
2035
2040
2045
2050
Renewables

(excludes hydro)

12.2%
19.2%
27.2%
34.8%
41.4%
46.2%
49.9%
Government support and targets for renewables
China is aiming to reach 28.2% renewable energy in 2020, if excluding hydro would reach 10.8% renewables (mostly solar & wind). China has been subsidizing renewables since 2011, but now that renewables are reaching "grid parity" they plan to phase out these subsidies in 2020. China's 14th 5 year plan to be announced in April 2021 is thought that it will focus on China's autonomy, that is China will rely more on itself for development by cutting reliance on the US for technology supply and exports. At the same time, China will keep its "opening up and reform" policy framework to maintain its central place in global supply chains, particularly among Asian and European countries, and offset rising "decoupling" risks with the US. China plans to focus on higher end technology development such as EVs, autonomous vehicles, AI etc. It is expected that China will continue their focus towards a cleaner environment. Already in 2020 China increased penalties on emissions. China wants new energy vehicle sales in 2025 to be 25% of all car sales.
Europe – The Renewable Energy Directive sets rules for the EU to achieve its 20% renewables target by 2020. This is followed by a more ambitious target of 32% renewable energy by 2030. Europe is rapidly moving towards clean energy and so far in 2020 are leading in EV sales with high subsidies in Germany and France.
USA – The USA has a 2020 renewables energy target of 20%. If elected, Biden plans a massive $2 trillion green infrastructure and jobs plan over his first term in office. The pillar is to ensure the U.S. has a carbon pollution-free power sector by 2035 and reaches net-zero emissions no later than 2050. Biden's plan would push to make commuter trains, buses and passenger vehicles run on electricity or clean fuel.
NAFTA (US, Canada and Mexico) has a 50% renewable energy sources target by 2025 in North America.
Latin America pledged 70% renewable energy by 2030.
The West African States (ECOWAS) aim for 38% renewable energy by 2030 achieved through the creation of 20GW of solar. The African Union also aims for a minimum of 10GW of renewable energy on the continent by 2030.
Light Electric Vehicle sales comparison (recovering in July 2020)

Source: EV-Volumes
Bloomberg's global electric vehicle sales targets
BloombergNEF 2020 forecast for annual electric vehicle sales released in May 2020. They are:
10% share by 2025 (~9m pa)
28% share by 2030 (~24m pa)
58% share by 2040 (~54m pa)
BNEF updated 2020 EV forecasts

The BNEF 2020 forecast with the raw numbers and country share

Source: Bloomberg New Energy Finance [BNEF] 2020 EV report
A double disruption with solar and EVs combined
With solar now the cheapest form of electricity and effectively free for home owners once installed, then combined with an EV it essentially means you can charge for free in the daytime. A winning combination and a double disruption of power generation and transport.
Combining the solar and EV revolution will be a game-changing trend/disruption this decade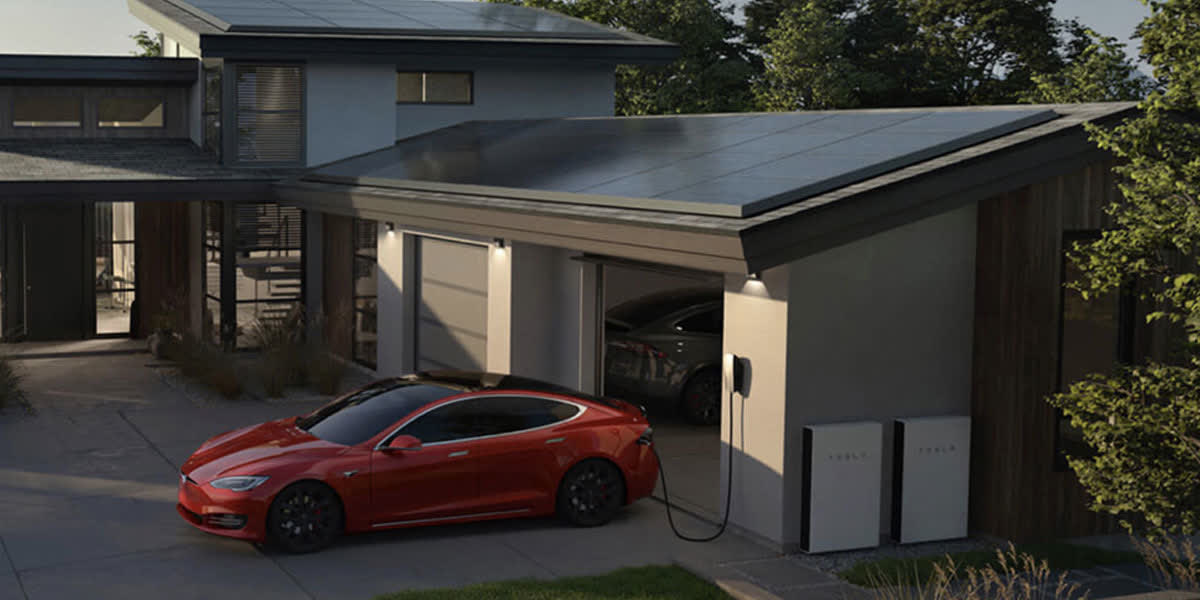 Four ETFs to benefit from the renewable energy and EV trend/disruption
Valuations on the above are not cheap after a recent run up but given the growth of the sectors they are not expensive either. FAN and ICLN look to be the best value right now, but it should be noted that solar and EVs/battery makers have outstanding growth ahead. My view would be to buy some of each of the four funds now and if we get any 25%+ pullbacks to accumulate more. For an individual stock to best capture the EV/solar trend/disruption I would suggest Tesla (TSLA).
iShares Global Clean Energy ETF [ICLN] – Top ten holdings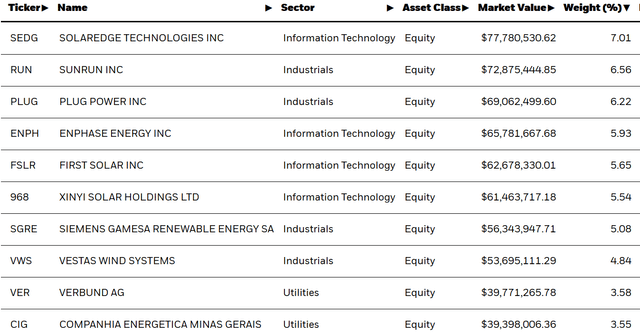 Invesco Solar ETF [TAN] – Top nine holdings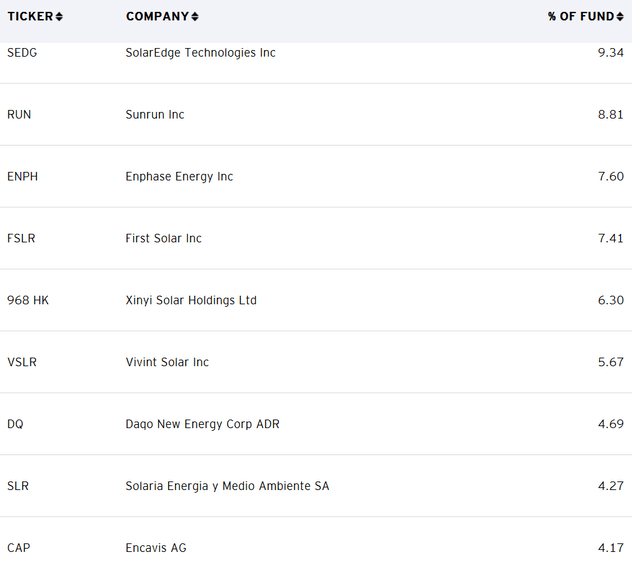 First Trust ISE Global Wind Energy Index Fund [FAN] – Top ten holdings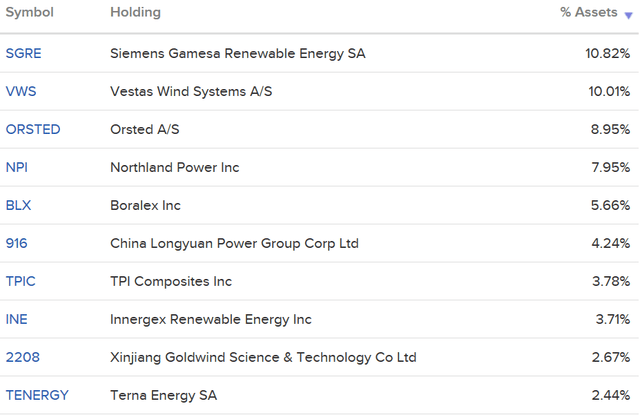 The Global X Lithium & Battery Tech ETF [LIT] – Top ten holdings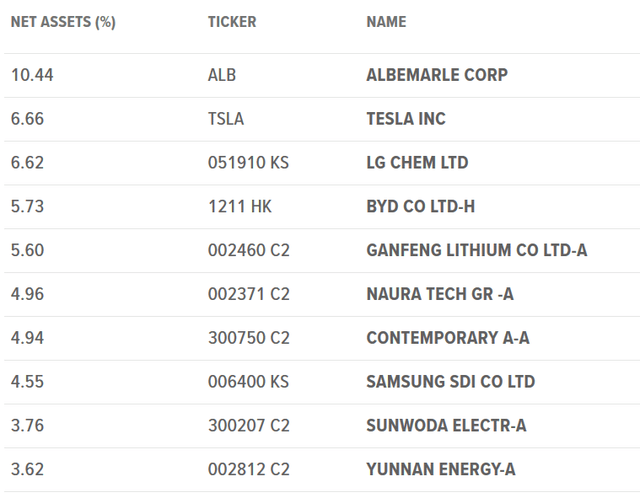 Risks
Government legislation change, including reduction or removal of subsidies. China is starting to reduce renewable subsidies now they are cheaper than other forms of electricity production.
Renewable and EVs may not gain as much market share as is forecast.
Technological change.
Competition risk – Solar panel prices keep on falling making it harder for panel manufacturers to make a profit.
Sovereign risk.
The usual business risks – Management, debt, liquidity, currency.
The usual stock market risks – liquidity, sentiment.
Affordable solar and affordable EVs combine for possibly this decades biggest trend (below is some ideas of Tesla's using solar)

Conclusion
Now that solar and wind energy are cheaper than other forms of energy in most parts of the world market forces are expected to cause a surge in solar and wind energy projects globally. China and Europe will likely continue to lead the way, as they have done with EVs; however if Biden is elected we may see a super-cycle surge in renewables to attempt to meet his 100% energy from non-carbon sources by 2035.
No matter who is elected globally natural competitive price forces and the growing consumer and government chorus of voices towards climate change and a higher percentage mix of renewables is now an unstoppable force. The same with electric vehicles. The speed of change is the only unknown, but given solar and wind are now the cheapest form of electricity and by 2022 EVs will be cheaper than conventional vehicles, it looks like the 2020's will see a mega boom in renewable energy and EVs. It should also be noted that the double combined disruption of households using solar and EVs for essentially free energy and transport (once the capital outlay is paid) will likely be a very powerful force this decade.
I have outlined four top tier ETFs to cover these themes and my recent solar, wind and EV articles in the further reading section. It is true that these sectors have moved higher recently, perhaps in anticipation of a Biden victory; however the opportunity and trend should continue for the next 2-3 decades so long term buy and hold investors can do very well.
View: Source
View: More news