View: Source
Summary
The iShares S&P Global Clean Energy Index ETF (ICLN) provides exposure to global equities, with the majority operating in the utilities sector, and  others providing exposure to renewable technologies.
ICLN has known the worst six-months performance compared to peers but, going forward, it should benefit better from car manufacturers' stated aim to shift to electric vehicles (EVs).
In this case, utilities should play a significant part in building a national network of chargers for EVs.
I am bullish, not because of infrastructure plan, but due to cost economics being favorable with prospects for better returns.
However, it will be a volatile path, mostly due to rising interest rates risks.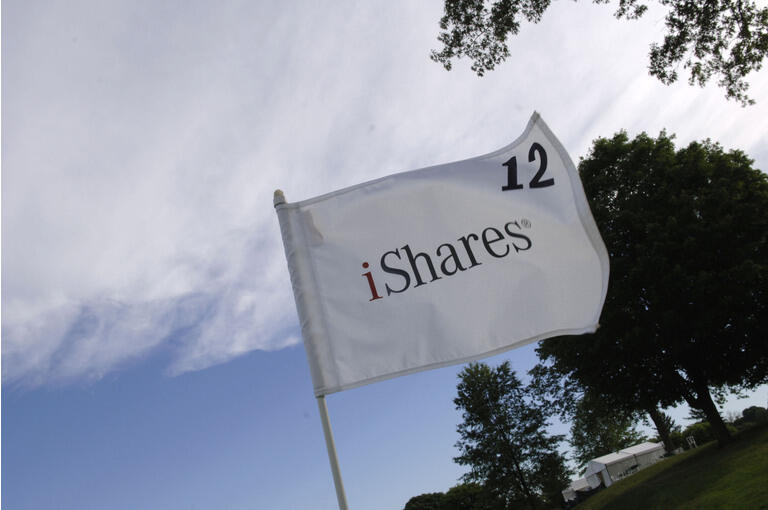 The trend in the automotive industry towards electrification of passenger vehicles has seen additional momentum with some manufacturers announcing that they will no longer produce ICE (Internal Combustion Engines) beyond specific deadlines. These Original Equipment Manufacturers (OEMs), which were initially in a tactical race to reduce Tesla's (NASDAQ:TSLA) competitive edge have started to adopt a more strategic view, which goes beyond regulatory pressures to meet more stringent CO2 emission requirements. Thus, electrification is no longer seen as a mere option but more as a necessity.
With 22.74% of assets invested in newer renewable technologies, namely solar panels, wind blades, inverters and batteries, the iShares S&P Global Clean Energy Index ETF (NASDAQ:ICLN) provides exposure to growth opportunities in green energy.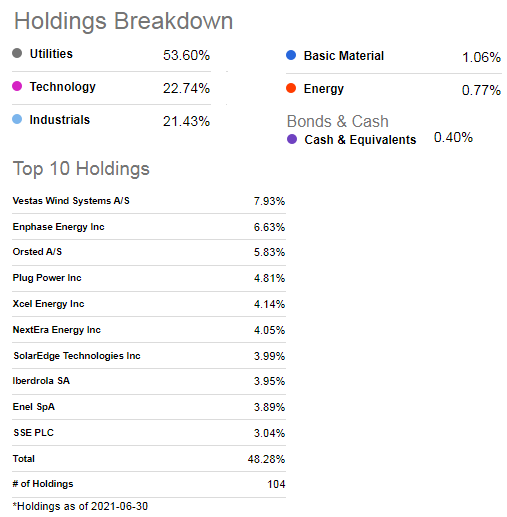 Source: Seeking Alpha
More important, forming a sizeable 53.60% of assets, the utilities sector is gradually undergoing transformation as power producers shift focus from fossil fuel to cleaner energy sources.
Renewables and utilities
As I had explained in my thesis on "NextEra Energy: Green And Steady Wins The Race" back on Jan 17 this year, renewables economics comprising investments needed to setup green solar and wind farms have become more favorable throughout the years, in contrast to coal. Hence, according to OurWorldinData, it is more difficult to break even with the new average coal plant compared to a wind or solar one.
Lower upfront investments mean better returns on the invested capital (ROIC). Now, this metric varies considerably for the individual utility, depending on the point it has reached along the renewables journey. Here, the two-year trend for ICLN's top four utility holdings indicates a net upwards progression for their ROICs, and these should continue to progress as wind turbines and solar panels continue to gain substantial market shares. Additionally, as the price of storage batteries drop, it becomes less expensive to store renewable energy and later release it when the sun goes down or the wind drops.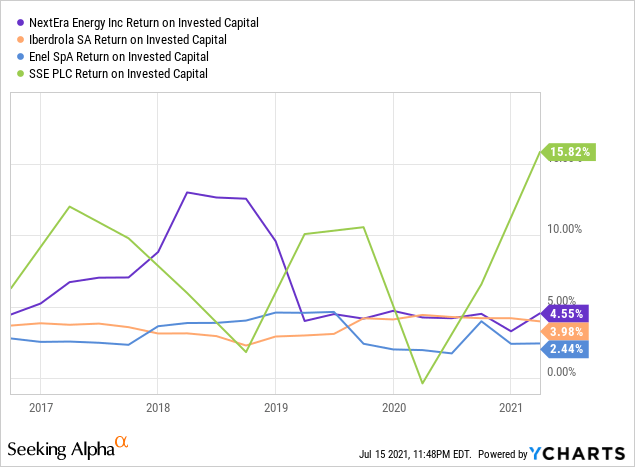 Another noteworthy point is the relatively "steadily rising ROIC paths" of Iberdrola S.A (OTCPK:IBDRY) and NextEra Energy (NYSE:NEE), made possible by these utilities having incorporated relatively higher dosages of green fuels in their energy mix, at about 33 GW and 13.5 GW respectively. This is in contrast to the wildly fluctuating trajectory of SSE Plc (OTCPK:SSEZF)(OTCPK:SSEZY), with only 4 GW of renewables, including offshore wind.
These ROIC findings are confirmed by a joint report by the International Energy Agency (IEA) and the Center for Climate Finance & Investment, which stress on the fact that renewable power shares offer higher total returns and lower annualized volatility compared to fossil fuels.
Higher returns coupled to lower volatility indeed appeal to investors, but it is important not to over raise expectations.
Some realism needed
According to the same EIA, energy consumption in the United States, which includes renewable-powered electricity generation, including biofuels, and biomass, has grown by 88% from 2000, and its share of consumption was nearly the same as coal in 2019.
However, being realistic, one should not ignore the importance of natural gas in the whole energy equation.
Again based on data by the EIA, U.S. natural gas consumption has increased by about 35% since 2000 and reached an all-time high in 2019. Now, with natural gas considered as cleaner than other fossil fuel for energy generation, its share of the energy mix should not undergo a drastic decrease, and this, for two reasons.
First, solar is an intermittent source of energy because clouds barring sun rays from reaching panels can cause a dip in the energy meter. On the other hand, gas is able to provide energy all round the clock as well as intensify production during peaks in consumption. Second, the U.S. is one of the world's largest producers of fossil fuel, and the price of natural gas, while having witnessed a peak in early 2021, remains under the $4 per thousand cubic feet level for electric power generation.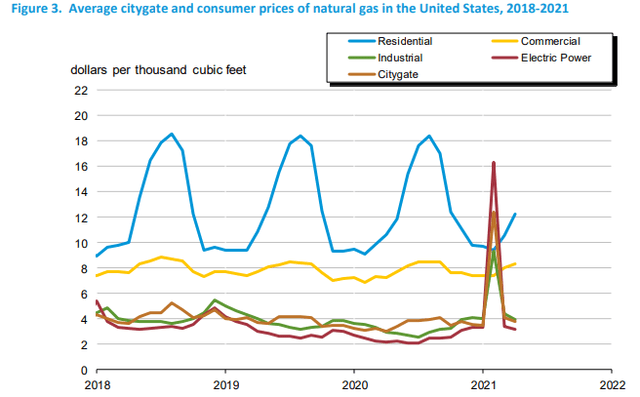 Source: eia.gov
In this connection, one analyst has already raised the issue of the combination of storage batteries and renewable energies threatening to waste billions of dollars of investment in natural gas. Thus, thermal power plants built over the past decade, with returns planned to span over tens of years, risk being abandoned before costs are amortized. This may not pose a problem in the era of cheap money, but rising interest rates and close scrutiny by cost-conscious Republicans could change it all.
Pursuing further, there has been a lot of buzz around President Biden's massive infrastructure plan including a reshaping of the energy sector. This plan should modernize electricity production by providing for a 10-year extension of investment and production tax credits for clean energy technologies, thus reducing their cost.
In addition to harnessing the federal government's considerable purchasing capacity to drive the deployment of clean energy, by purchasing 24/7 clean energy for federal buildings, the plan should also support green initiatives of states and territories.
There is also $35 billion earmarked for technological breakthroughs in clean energy which should benefit Plug Power (NASDAQ:PLUG) for hydrogen fuel cell systems as well as Enphase Energy (NASDAQ:ENPH) and SolarEdge (NASDAQ:SEDG) for solar products. Still, being realistic, the President is thinking big, but hasn't delivered yet on the $3.5 trillion plan.
Conclusion
As a result of commitments from governments and corporations to fight climate change as a basis for underpinning the energy transition theme, ICLN and peers have delivered upbeat one and three years performances. With holdings numbering 104, the iShares fund has delivered a 60-months beta of 1.01, or a slightly above average-market volatility.
Part of the reason for the volatility seems the Federal Reserve flagging an earlier than planned interest rate increase, with the move having made a dent on the shares of power producers, which sank across the board on June 16.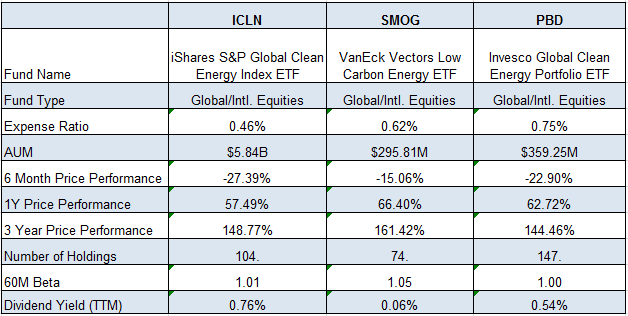 Source: Seeking Alpha
Additionally, compared to peers, ICLN has suffered from more underperformance during the last six months due to its significant exposure to small caps.
Still, taking a bird's eye view, despite taking a hit and underperforming the S&P 500, the money has kept flowing in all three green ETFs.
The reason for the inflows is that renewable energy prices have become increasingly competitive even without subsidies. Consequently, more companies are shunning fossil fuels to voluntarily reduce carbon emissions by investing in solar and wind energy. While the Biden infrastructure plan is not law yet, its very existence, encompassing the use of new regulations at federal and state-level to fight climate change is encouraging other corporations to shift towards green energy.
None of these corporations are as visible as the world's major automotive players.
These have set public targets for the adoption of EVs. For example, while Volkswagen (OTCPK:VWAGY) has made a commitment to halt production of ICEs by 2030, Jaguar has pledged to become an all-electric luxury brand as early as 2025. Furthermore, Ford's (NYSE:F) entire passenger car lineup is expected to run solely on electric batteries by 2030. The same applies for Mazda (OTCPK:MZDAY). As for General Motors (NYSE:GM), the majority of its vehicles sales will be electric by 2035.
These mean more charging stations, and according to a recent study by PWC, "utilities are in a unique position to fill the gap between the deployment of EV charging stations and mass EV adoption".
Additionally, with power generation costs forecasted to fall further, and more than 50% exposure to utilities, ICLN is in a pole position to take advantage of the ecosystem around EVs, including its exposure to green technologies.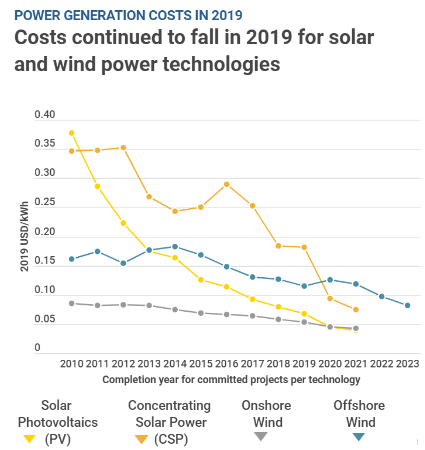 Source: energypost.eu
As for valuations, ICLN's Weighted Average PE ratio is 25.35, lower than the SPDR S&P 500 ETF Trust's (NYSEARCA:SPY) value of 26.57. Still, the green energy fund should fall further in the short-term, fueled by debates between Democrats and Republicans over details of the infrastructure plan.
Also, compared to its two other peers, ICLN has more exposure to utilities, at more than 50% compared to 33% for the VanEck Vectors Low Carbon Energy ETF (NYSEARCA:SMOG) and 27% for the Invesco Global Clean Energy Portfolio ETF (NYSEARCA:PBD).
Therefore, for the long term investor, looking to profit from utilities' prominent role in vehicle charging infrastructure, EV adoption is set to grow from about 2% of the fleet currently, to 15% by 2030. Extrapolating further, I obtain a potential long-term target of $25.4 for ICLN.
Target price = 22.10 x 1.15 = $25.4
This remains a low target, but the ETF offers a better dividend yield for those prepared to wait. Furthermore, this forecast ignores the revenue and cost synergies as well as M&A activities which could uplift the renewables sector as a result of the infrastructure plan being implemented. Finally, the share price's trajectory should be adversely impacted by the intensifying growth-value debate, all amid inflation talks.